December 14th 2020
National is extremely proud to announce the 2020 Recipients of The Royal Canadian Sea Cadet Education Foundation Scholarship Program. Over the past several months, the Foundation received a total of (105) applicants. The list below contains (79) outstanding Sea Cadets from coast to coast who are pursuing a variety of studies at university, college, and technical trades school. The Education Foundation would also like to acknowledge the outstanding support of Irving Shipbuilding Inc and the Naval Association of Canada Endowment Fund. A total of $100,000 will be awarded to help the students with their studies.


CPO2 Ethan Afaganis
RCSCC Athabaskan - Fort Saskatchewan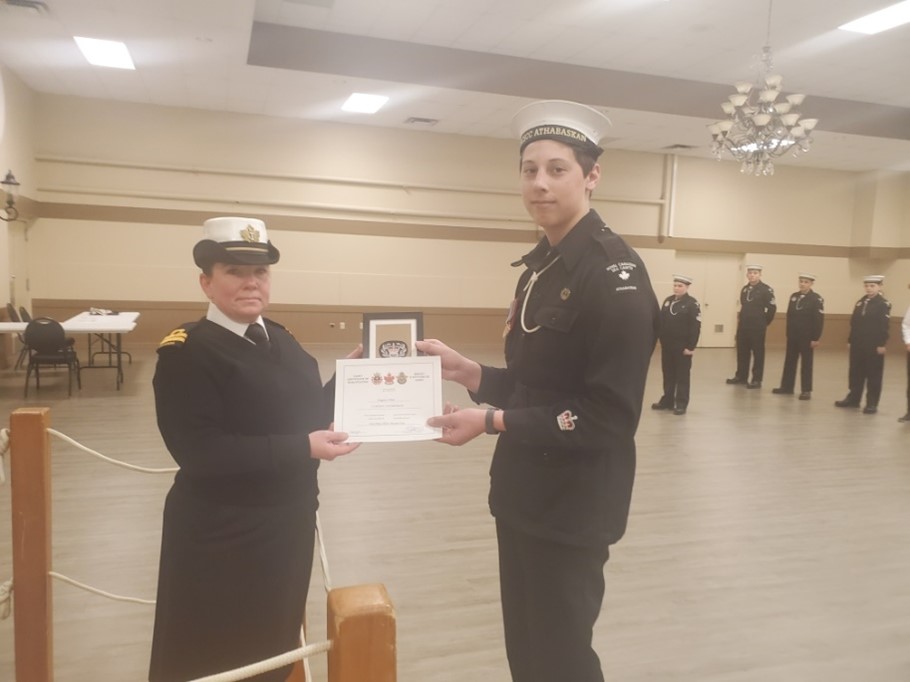 Chief Petty Officer Second Class Ethan Afaganis received a Royal Canadian Sea Cadet Education Foundation Scholarship. He is currently enrolled in the University of Alberta in their engineering program.

CPO2 Afaganis was the previous RPO of #113 RCSCC Athabaskan after being in the program for 6 years. In order to focus on his studies, he is no longer involved with the program as of this year. He was very involved in his corps and was always figuring out ways to improve his standards as well as the corps'. Chief Afaganis taught various classes most weeks and would assist in a lot of routine parts of the program.

Ethan was able to venture on a tall ship deployment in the summer of 2018 and a basic seamanship course in summer of 2015. His level of participation and leadership within the program was definitely a reason for the scholarship. He learned a lot from the program and was able to develop strong leadership and communication skills because of his involvement within the corps.


CPO2 Ashley Anderson
RCSCC Chinook - Lethbridge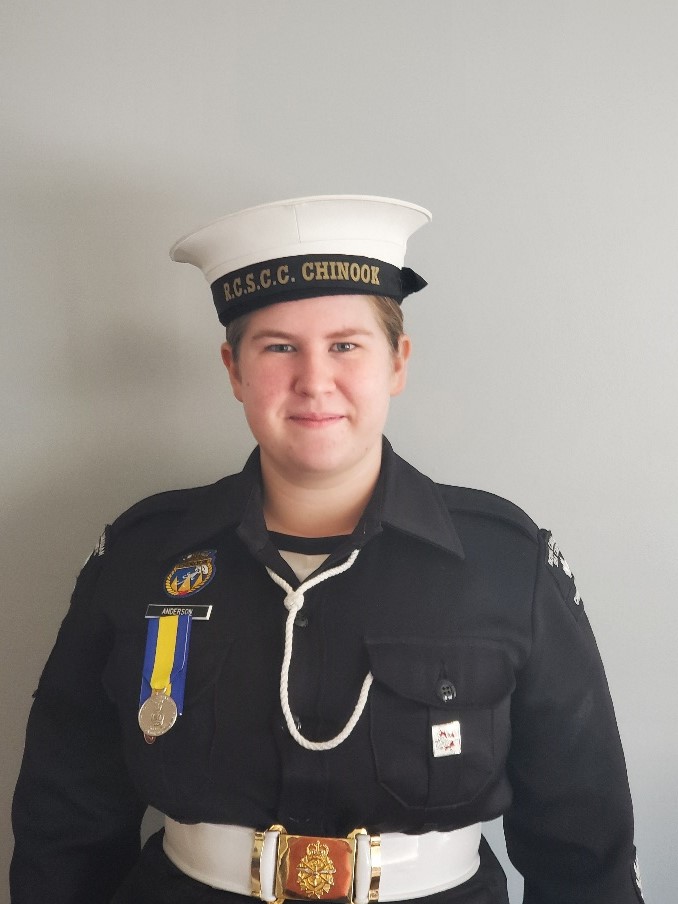 CPO2 Anderson is extremely honoured to have been chosen as one of the recipients of The Royal Canadian Sea Cadet Education Foundation Scholarships. She is forever grateful for receiving this scholarship that has been made available to her in this troubling economy and it has helped alleviate some of the stress of having to pay tuition payments, and allowing her to focus more on her studies

She currently enrolled in the General Arts and Science with a major in Psychology and Sociology, at the Lethbridge college and hopes to pursue at the university level.

As she ages out of the sea cadet program, she is forever appreciative of all the opportunities that she has been granted during her time with the sea cadets.

She come into the program at a later age and she worked hard to move up in the ranks. As she was going through the sea cadet program, she has learned many thing but the one thing that she will always keep with her is the responsibilities, leadership, and the friends she has made.

During my time she served many roles including being the drum major and putting together activities with her senior peers. She was part of the marksmanship team every year that she was a cadet.

She is looking forward to continuing to work with the sea cadet program as a CI.


CPO2 Kianna Beck
RCSCC Calgary - Calgary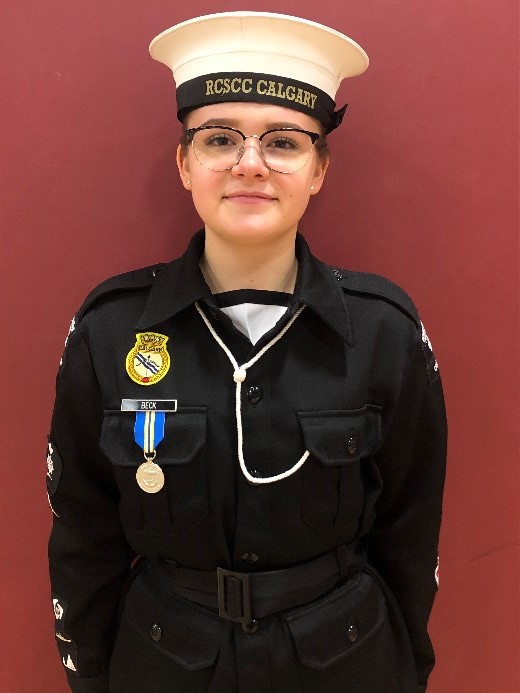 CPO2 Kianna Beck began her cadet career with NLCC #166 John A. Hamilton in Calgary. Upon aging out of Navy League, she joined #335 RCSCC Calgary in September 2015.

From the very beginning CPO2 Beck excelled in her corps. She attended summer training programs at the CTC in Quadra, BC to expand upon her skill sets, and continued to move upward into positions of increasing responsibility with her home corps.

In May 2020, she was the successful candidate for the position of Coxswain of #335 RCSCC Calgary. Her selection for this role is a result of her application of almost a decade's worth of learned leadership, teamwork, and communication skills.

Through the Royal Canadian Sea Cadet Education Foundation Scholarship Program. She is now in her first year at University of Calgary, she is working toward her Bachelor of Science in Physics with a long-term goal of becoming a forensic scientist.

She would like to thank the foundation for their tremendous generosity and their willingness to support her in my future endeavours. It is an absolute pleasure she has been recognized for this scholarship and she can not thank the donors enough.


CPO2 Raleigh Nolan
RCSCC Victoria - Calgary
Raleigh Nolan is a former cadet with RCSCC 344 Victoria based in Calgary He joined in September of 2014, he become a Chief, and held the position of RPO. Raleigh has been sailing since 2010 and enjoys the sport tremendously. In the summer of 2018, he completed Advanced Sail at RMC in Kingston, Ontario in which he participated in CORK 420's and placed in the Gold Fleet. He also competed in the 2018 Sea Cadet National Regatta where he placed as top finisher in NW Region, and will be going again in the summer of 2019.

While at cadets enjoyed helping his fellow cadets at the Corps and sharing the thrills and skills of sailing to others both within his Corps, and in his community. Outside of Cadet world, he plays tuba in the school band, and enjoys welding as a hobby. He likes math, science, and politics, and is currently attending the U of C for Engineering.


CPO1 Hunter Grigor
RCSCC Patriot - Although not in Alberta anymore. Was a Navy League Cadet with NLCC John A Hamilton and RCSCC Calgary